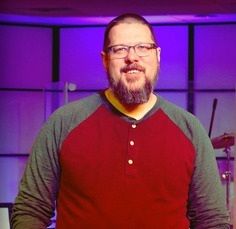 David joined the staff at The Bridge in July 2017 after serving as a Church Planter, Pastor, and Church Planting Catalyst in Philadelphia, PA for 18 years.

He married his wonderful wife, Kelly, in 1990, and they have three daughters: Erin, Allison, and Emily. David and Kelly were both raised in Missouri and graduated from Southwest Missouri State University (it will always be SMSU to them). He loves almost all sports, traveling, and eating at small family-owned restaurants (especially Mexican and BBQ!). If you chat with David for any length of time, you'll learn that he has a deep love for authentic Philly Cheesesteaks and insists that the East coast is the only place to find a good one; however, that has not stopped his hunt for an acceptable version in the 417.
Rick is our veteran staff member, having been an incredible part of The Bridge for more than a decade. He and his wife, Jenny, live in Springfield. They have three adult children and two grandkids. They have been involved in youth ministry for over 20 years and love connecting with teenagers. They love helping them discover who they are in Christ and follow His plan for their lives.

In their spare time, they like to go on walks, get coffee, play games, eat out, and lead marriage retreats. If you're ever in need of a good "dad joke," look no "father," Rick's your guy!